Christian Challenges
Peter's Ladder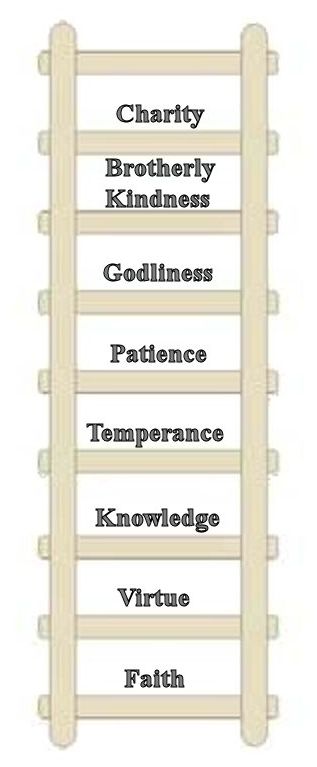 "Whereby are given unto us exceeding great and precious promises:
that by these ye might be partakers of the divine nature,
having escaped the corruption that is in the world through lust.
And beside this, giving all diligence,
add to your faith virtue;
and to virtue knowledge;
And to knowledge temperance;
and to temperance patience;
and to patience godliness;
And to godliness brotherly kindness;
and to brotherly kindness charity."
2 Peter 1:4-7.
Faith
"Now faith is the substance of things hoped for, the evidence of things not seen." "Even so faith, if it hath not works, is dead, being alone. Yea, a man may say, Thou hast faith, and I have works: shew me thy faith without thy works, and I will shew thee my faith by my works." Hebrews 11:1; James 2:17, 18.
Virtue (Moral goodness, power, courage)
"For I am not ashamed of the gospel of Christ: for it is the power of God unto salvation to every one that believeth; to the Jew first, and also to the Greek." "For the preaching of the cross is to them that perish foolishness; but unto us which are saved it is the power of God." "And they overcame him by the blood of the Lamb, and by the word of their testimony; and they loved not their lives unto the death." "For whosoever will save his life shall lose it: and whosoever will lose his life for my sake shall find it." Romans 1:16; 1 Corinthians 1:18; Revelation 12:11; Matthew 16:25.
Knowledge
"Talk no more so exceeding proudly; let not arrogancy come out of your mouth: for the LORD is a God of knowledge, and by him actions are weighed." "Who will have all men to be saved, and to come unto the knowledge of the truth." "Thy word is true from the beginning: and every one of thy righteous judgments endureth for ever." 1 Samuel 2:3; 1 Timothy 2:4; psalms 119:160.
Temperance
"I beseech you therefore, brethren, by the mercies of God, that ye present your bodies a living sacrifice, holy, acceptable unto God, which is your reasonable service." "And every man that striveth for the mastery is temperate in all things. Now they do it to obtain a corruptible crown; but we an incorruptible." "Whether therefore ye eat, or drink, or whatsoever ye do, do all to the glory of God." Romans 12:1; 1 Cor 9:25; 10:31.
Patience
"Behold, we count them happy which endure. Ye have heard of the patience of Job, and have seen the end of the Lord; that the Lord is very pitiful, and of tender mercy." "Now we exhort you, brethren, warn them that are unruly, comfort the feebleminded, support the weak, be patient toward all men." "but let patience have her perfect work, that ye may be perfect and entire, wanting nothing." James 5:11; 1 Thessalonians 5:14; James 1:4.
Godliness (piety)
"This know also, that in the last days perilous times shall come. For men shall be lovers of their own selves, . . . Having a form of godliness, but denying the power thereof: from such turn away. . . . Yea, and all that will live godly in Christ Jesus shall suffer persecution." "but godliness with contentment is great gain." 2 Timothy 3:1, 2, 5, 12; 1 Timothy 6:6.
Brotherly Kindness
"Therefore all things whatsoever ye would that men should do to you, do ye even so to them: for this is the law and the prophets." "And be ye kind one to another, tenderhearted, forgiving one another, even as God for Christ's sake hath forgiven you." "Let nothing be done through strife or vainglory; but in lowliness of mind let each esteem other better than themselves." Matthew 7:12; Ephesians 4:32; Philippians 2:3.
Charity
"And though I have the gift of prophecy, and understand all mysteries, and all knowledge; and though I have all faith, so that I could remove mountains, and have not charity, I am nothing. And though I bestow all my goods to feed the poor, and though I give my body to be burned, and have not charity, it profiteth me nothing. Charity suffereth long, and is kind; charity envieth not; charity vaunteth not itself, is not puffed up, Doth not behave itself unseemly, seeketh not her own, is not easily provoked, thinketh no evil; Rejoiceth not in iniquity, but rejoiceth in the truth; beareth all things, believeth all things, hopeth all things, endureth all things. Charity never faileth:.." 1 Corinthians 13:2-8.
"For if these things be in you, and abound, they make you that ye shall neither be barren nor unfruitful in the knowledge of our Lord Jesus Christ. . . . Wherefore the rather, brethren, give diligence to make your calling and election sure: for if ye do these things, ye shall never fall:" 2 peter 1:8, 10.

© S. D. Goeldner, February, 2013. Last updated July, 2020.
www.vineyardlabourer.info
Mobile, tablet, laptop, desktop, etc. friendly webpage design. Powered by w3.css