Christian Home Life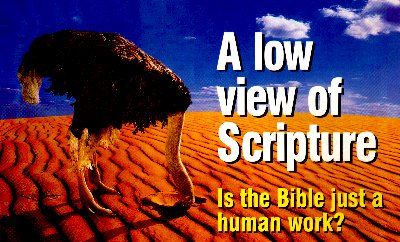 For more than a century, the church as a whole has had its head in the sand about the enormously damaging consequences of putting one's trust in the ever-changing words of fallible people, rather than the authoritative pronouncements of unchanging Word of the infallible God. Increasingly, the clear and obvious meaning of Genesis has been abandoned out of (an unwarranted) fear of being 'unscientific'.
But what logical reason is there then for trusting anything the Bible says? The whole meaning of the Christian hope is tied up with those historical events in Genesis.
No wonder the world increasingly sees the church as irrelevant, at a time when the West has never been more spiritually destitute and hungry.
By Ken Ham
In objecting to my strong stand on the six literal days of creation, a pastor wrote:
'Ham uses deductive reasoning, with only the Bible text as his referent, to make a case for the literal historicity of everything in Scripture. Without such authentication, he claims, the truth of the resurrection is jeopardized. I'm unable to make that jump with him because to do so would be to make my faith totally dependent on something, i.e. the Bible text historicity, which is, ultimately, a human work' [1] (emphasis mine).
One of the major problems in the church today is that, through the seminaries and colleges, Christian leaders (and Christians in general) have been conditioned to treat God's Holy Word as a fallible human work - even though many would claim it to be the inerrant and infallible Word of God.
Can this serious accusation be substantiated? In a previous article in Creation, [2] I gave examples of conservative Christian scholars admitting that Genesis chapter one, taken on its own, teaches six literal days. However, these same Christian leaders, by their own words, were shown to reject the six literal days, because they accepted the billions of years for the age of the earth and universe.
Since the word for 'day' in Genesis 1, taken in context in accord with the Hebrew language, means a literal day, [3] then if man's dating methods are used to 'reinterpret' what this word means - then logically, God's Word is regarded as fallible and man's dating methods as infallible.
This sets a very dangerous precedent. If the words as written in one chapter of a book in the Bible, that is written as typical historical narrative, [4] don't mean what they obviously do say and mean - then ultimately, one could reinterpret any passage in the Bible. Thus, even the New Testament writings such as those authored by Paul, would not have to be taken as written.
Paul of course referred to Genesis as real history in many passages, including Romans 5, 1 Corinthians 15, and Acts 17 (v26).
However, let me show you what happens when you take what Paul wrote, reject a literal Genesis, and accept the fallible teachings of human beings concerning the age of the earth. [5]
In the United Kingdom (a country once pervaded by Christian thought, which now has few vestiges of Christianity left), one of the most influential Christian organizations produces Sunday School lessons in their magazine. [6] These are used by many churches (including many of the more conservative ones) to teach children and adults.
In the March 1998 edition for all ages, we read:
'The study of palaeontology has rendered it virtually impossible for a serious scientist to make a case for a six day creation about six thousand years ago, as Christians would once have believed without question' [7] (emphasis mine).
Of course, the reason most Christians would have once believed six days without question is that this is the obvious and straightforward reading, in context, of the words in Genesis 1.
The above statement is setting a dangerous precedent. Man's study of the fossil record, and his interpretations of this, they claim, must be used to interpret Genesis.
So what then would the person who wrote this Sunday school lesson do with what Paul wrote in the New Testament concerning Genesis?
Further down the same page, the author of this same lesson states:
'Paul clearly believed, as one would expect of a thinker of that era, in a humanity which was descended from a single male - Adam (v. 26). Because at the end of the twentieth century we have access to scientific and literary scholarship that he never had, many would now see that using the Bible as a geological textbook requires it to answer questions in a way that was never intended.'
There is no doubt that this quote implies that because Paul didn't have the fossil and dating research we have today, his writings reflected this lack of knowledge and understanding.
Therefore, we can't really trust what Paul stated concerning origins - one has to realize that Paul was at a great disadvantage in this area.
Now just a moment! This is part of the problem with the church today. It seems most Christians have a gross misunderstanding concerning the nature of the words in the Bible.
Are the words of Paul just human words, reflecting human thoughts and knowledge? First, let's consider just some of the claims the Bible makes for itself. Over 3,000 times, the Bible claims that it is God's Word.
In Paul's second letter to Timothy chapter 3:16, we read of the infallibility of the words in the Bible; 'All scripture is given by inspiration of God' (literally 'God-breathed'). Then there are passages such as Psalm 119:160, ' Thy word is true from the beginning', and verse 89, 'For ever, O Lord, thy word is settled in heaven.'
Jesus Christ often settled arguments by citing Scripture, which He said 'cannot be broken' (John 10:35). 'It is written,' followed by a passage in Deuteronomy, was enough to answer Satan (Matthew 4).
For Him, what Scripture said, the Creator said (Matthew 19:5). In Matthew 22:23 - 34, Christ based an argument on resurrection on the tense of a single Old Testament verb. He endorsed the Genesis record of creation (Matthew 19:3 - 6), and Noah's Flood and Ark (Luke 17:26 - 27).
There are hundreds and hundreds of other Scriptures that could be used to show that every word (in the original autographs) is the exact word that God wanted there for all people for all time. Even though God used human authors, they only wrote down what God wanted written down (2 Peter 1:20 21).
And remember, God is infinite in knowledge. He has never been hampered by a lack of understanding in geology or astronomy! God is not in Heaven saying 'Poor old Paul, he got it wrong. I wish he had written things differently.'
Sadly, because Christianity is pervaded with what I insist is really a low view of Scripture, we see the outworkings of this in the Sunday School literature quoted earlier, and in Christian college newspapers such as the following:
Referring to the Bible, the writer states: 'Perhaps it would be better to read it as it was intended to be read, as a variety of texts intended to reveal God's unchanging truth to ancient cultures. Because the Bible was not directly addressed to our culture, it is important that we read it in its proper context instead of deifying it by reading it literally.' [8]
Even though the Bible was written down in the background of past cultures, nonetheless it is the Word of God that is for all people for all time - and it will stand forever. 'The grass withereth, the flower fadeth: but the word of our God shall stand for ever' (Isaiah 40:8).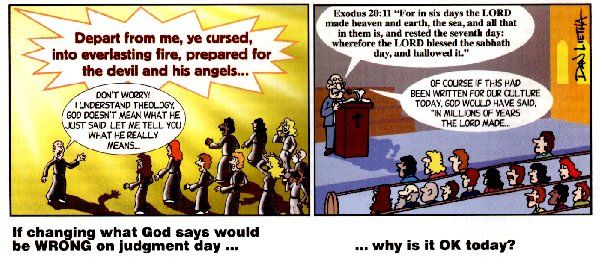 To illustrate this philosophy of using conclusions from outside the Bible to depart from its plain teaching, consider the following. Today, some in the church claim that Paul didn't understand that some people were supposedly born programmed by their genes to be homosexual. [9] Thus, they say, Paul's statements condemning homosexual behaviour (e.g. in Romans 1) cannot be accepted today. Paul is accused of a lack of knowledge in this area, so he wrote down incorrect information in the Bible. However, remember - the Creator God, who inspired Paul to write the exact words He wanted, has all information.
Even though customs of people from various cultures in the Bible (e.g. in the book of Genesis), may well differ from ours, we must treat each custom according to the immediate context of the Scripture passage, before attempting to use sources outside the Bible to explain it.
Because it is God's Word (and not just a human work), Scripture must be self-authenticating, self-attesting, and Scripture must interpret Scripture.
Certainly, extra-biblical sources can be used to aid us in understanding the background against which it was written - but these sources must be secondary to the context of the words themselves.
Ever since that Fall of man, when Adam didn't listen to the plain words from God, but tried to 'interpret them' with his own finite understanding, humans have been shaking their fist at God's Holy Word.
Those who do let God's Word speak plainly to them (particularly in Genesis), are looked down upon with disdain by most of today's scholars who make statements such as:
'Christians are often inclined to take the young-earth position simply because it appears to be the plainest reading in the Bible.' [10]
My challenge to the church is simply this: Let us repent of our low view of Scripture, and humble ourselves and learn the lesson God taught the Israelites in Deuteronomy 8:3:
'And he humbled thee, and suffered thee to hunger, and fed thee with manna, which thou knewest not, neither did thy fathers know; that he might make thee know that man doth not live by bread only, but by every word that procedeth out of the mouth of the Lord doth man live.'
Let us also remember Psalm 138:2:
'For thou hast magnified they word above all thy name.'
REFERENCES AND NOTES










from CREATION ex nihilo
Volume 21 Number 1
December 1998 - February 1999
The information on this page has been obtained from Creation Ministries International, a non-denominational ministry.

© S. D. Goeldner, February, 2011. Last updated July, 2020.
www.vineyardlabourer.info
Mobile, tablet, laptop, desktop, etc. friendly webpage design. Powered by w3.css